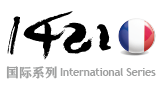 1421France Red Wine
A lovely garnet red in colour. The nose evokes red berries and black fruit, with subtle toasted notes.The attack is supple, with a round mouthfeel and mellow tannins.This modern Bordeaux can accompany a great variety of dishes thanks to its fruitiness and suppleness.

1421France White Wine
The grapes are then fermented in a tub and aged for 6 to 8 months in a tub. With a bright light of gold, lemon, lime and mango, with a light mineral and cream, an acid-balanced, energetic wine, a net of ice and a variety of Chinese food.